Dresden Fraunhofer institute bundles technologies for additive production under one roof
Innovation Center Additive Manufacturing inaugurated at Fraunhofer IFAM in Dresden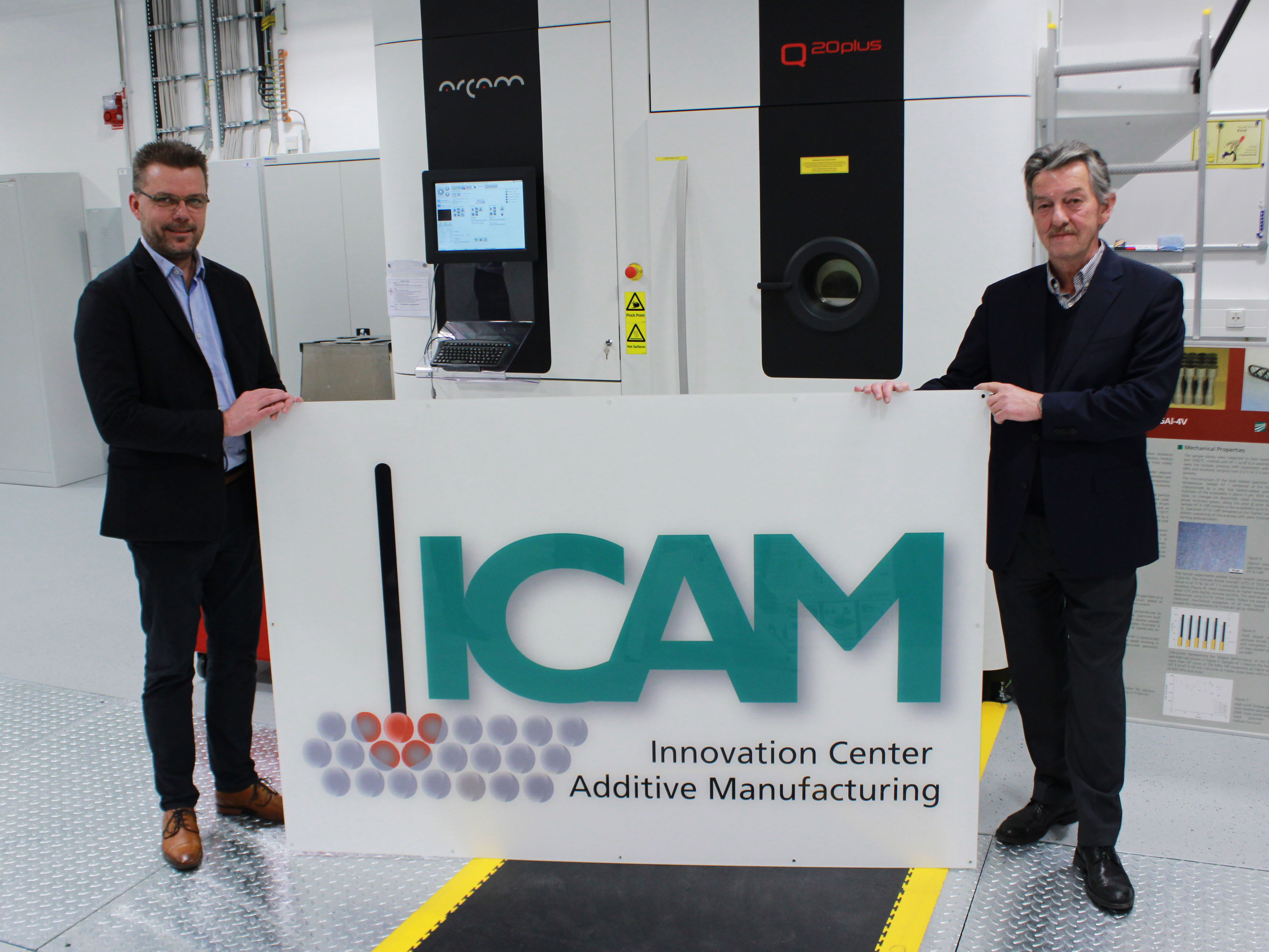 At the Fraunhofer Institute for Manufacturing Technology and Advanced Materials IFAM in Dresden, the "Innovation Center Additive Manufacturing" (ICAM®) was inaugurated on March 7, 2019. Here, the Dresden research institute combines various technologies for additive manufacturing in a newly constructed technology hall in order to be able to demonstrate to partners and users a wide range of possibilities for the generative manufacturing of three-dimensional components under one roof in the future.
The newly opened ICAM® houses several facilities for Selective Electron Beam Melting (SEBM), including the Q20plus from the Swedish manufacturer ARCAM EBM. This is the system with the largest build chamber currently available for SEBM. Selective Electron Beam Melting is a powder-based process for the generative manufacturing of three-dimensional components. The powder bed is selectively melted in layers by the electron beam. No additional tools or moulds are required for the process and designs can be implemented almost freely. Another advantage is that SEBM saves raw materials in particular.
In addition, the so-called AMCC line (Additive Manufacturing Complete and Compact) of project partner Xerion, a prototype production line for 3D components using Fused Filament Fabrication (FFF), will be set up here in the coming weeks. While this process is known for the generative manufacturing of plastic components, Fraunhofer IFAM is now expanding its range of materials to include metallic components that were previously not possible. This makes a much wider range of applications possible. With this decisive further development the institute can contribute its many years of know-how in the field of powder metallurgy to a well-known process and, thus, combine tried and tested processes with new materials.
Last but not least, Fraunhofer IFAM in Dresden has several systems at its disposal for three-dimensional screen printing of components, including the world's most modern in the R&D field. In this further development of classical industrial screen printing, a paste based on metal powders is printed layer by layer on top of each other in the third dimension. In comparison to other generative manufacturing processes, three-dimensional screen printing enables higher precision and is a genuine mass production process. The materials fit for the process can be freely selected and, if necessary, combined in the area of metallic and ceramic materials.
The portfolio is supplemented by three-dimensional stencil printing. In contrast to screen printing, structured metal foils are used instead of the printing screen to generate components. Advantages of 3D stencil printing compared to 3D screen printing are the potentially better surface quality and an increased layer thickness.
With the opening of the Innovation Center Additive Manufacturing, Fraunhofer IFAM Dresden has taken into account the successful developments of the institute in the field of additive manufacturing in recent years and further expands its competence in the field of additive manufacturing. By bringing together different technologies in one place, it is possible to offer tailor-made solutions for a wide range of questions from a single source.
The institute offers partners from industry and research a wide range of development services from powder to component, e.g. in the form of feasibility studies, the evaluation of powders for additive production and the qualification of new materials. Furthermore, component development, starting with the powder and continuing through design (e.g. topology optimization for weight reduction and/or component integration) to production and post-processing, is part of the offer.
Together with the colleagues from the Fraunhofer IFAM Bremen site, who also have the additive manufacturing technologies Metal Binder Jetting and Laser Beam Melting in their portfolio, Fraunhofer IFAM now has one of the most comprehensive ranges of technologies in the field of additive manufacturing for metals.
Experience ICAM yourself on site or next at the Additive Manufacturing Forum in Berlin from March 14 to 15, 2019.
True to the motto: "If AM - then IFAM".