Medical hydrogel for the removal of kidney stones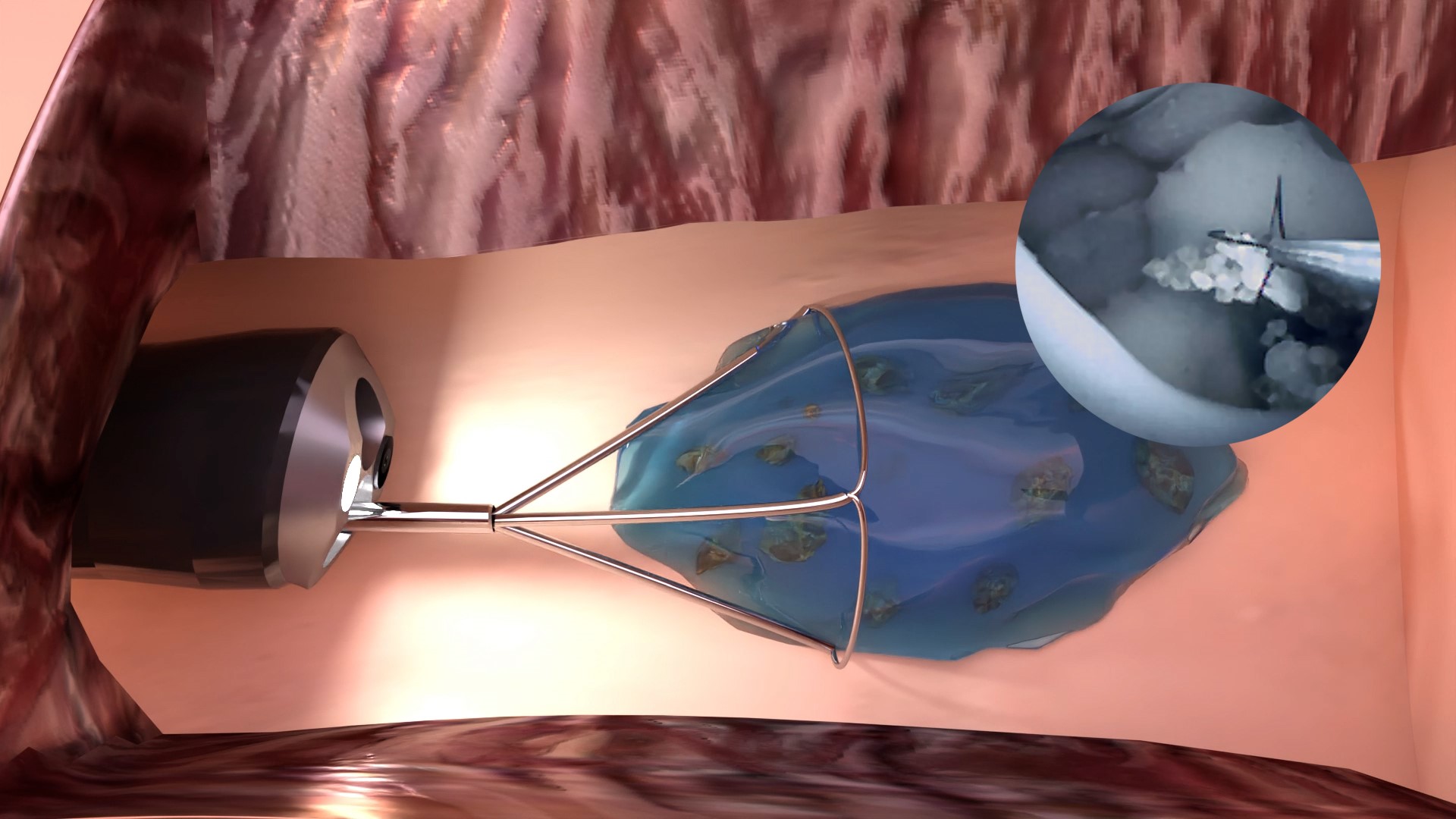 Kidney stones are painful and can be life-threatening. They are shattered with a laser and the fragments are then removed with a grasper. If the fragments are too small, they cannot be grabbed and remain in the kidney, leading to the formation of a new kidney stone. Purenum GmbH, a spin-off from Fraunhofer IFAM, has developed a medical hydrogel to market maturity aimed at tackling this issue.
The idea for the medical hydrogel was born through discussions with urologists and market research — the road from the original idea to the certified medical product was long. The research group of Prof. Ingo Grunwald at Fraunhofer IFAM worked in cooperation with urologists in the GO-BIO project mediNiK to lay the basis for the biocompatible, medical hydrogel to enable the removal of kidney stone residues during endoscopic therapy.
The two components of the hydrogel are applied one after the other through a catheter directly over the kidney stone fragments. The first mediNiK® component encloses even the smallest fragments and forms an elastic gel a few seconds after the second component is applied. This gel is stable enough to hold the fragments inside and to be grasped securely by a grasping instrument. In this way, even smallest kidney stone fragments, also known as stone dust, can be removed from the kidney.
The foundation of Purenum
Following extremely positive development results, Prof. Dr. Ingo Grunwald and Manfred Peschka founded Purenum GmbH in December 2017. "We immediately recognized the potential of this gel and were convinced that many patients could benefit from our development," says Peschka.
The hydrogel was developed to the point of a functional prototype (design freeze) as part of the GO-BIO project. Then the manufacturing processes were developed and documented in accordance with regulatory requirements, the quality and safety of the mediNik® hydrogel was demonstrated and the CE mark was obtained. Studies are currently being carried out at five clinics across Germany to generate further data on the efficiency of the therapy.
In constant cooperation with Fraunhofer IFAM, Purenum is further expanding its adhesive expertise for medical applications. For example, the colleagues are working on adhesives for bone fractures, with particular focus on fixing smaller fragments such as wrist bone fractures.