Professor Bernd Kieback receives William Johnson International Gold Medal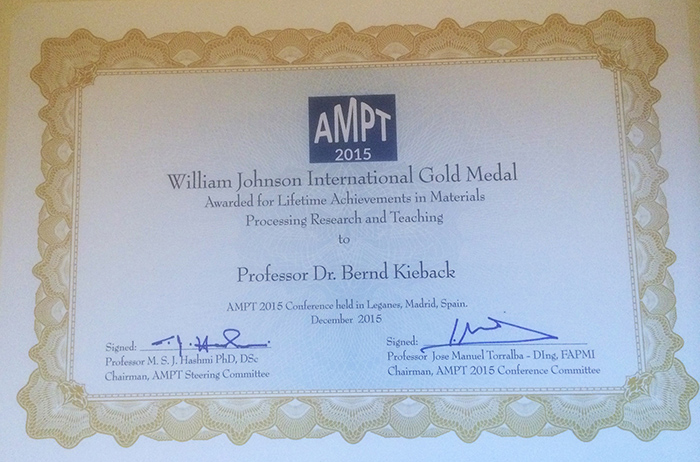 The Dresden materials scientist Prof. Dr.-Ing. Bernd Kieback has been awarded the William Johnson International Gold Medal at the Advances in Materials & Processing Technologies Conference AMPT in Madrid on Monday, December 14, 2015. Thus, his lifetime achievements in materials research and teaching have been recognized. Among others, he has led Dresden to become the leading site for powder metallurgy in Germany and Europe.
The William Johnson International Gold Medal is being awarded by the steering committee of AMPT to recognise and appreciate distinguished academic achievements in materials processing research and teaching. The award is named after Professor William Johnson, formerly of the University of Manchester Institute of Science and Technology and Cambridge University, whose pioneering work on materials processing and process modeling is internationally recognized.
During his career, the laureate 2015, Prof. Kieback, director of the Dresden branch of the Fraunhofer Institute for Manufacturing Technology and Advanced Materials IFAM as well as professor for Powder Metallurgy, Sintered and Composite Materials at Technische Universität Dresden, has done research and teaching on different areas of powder metallurgy. In the beginning, he focused on sintered steel, later he mainly concentrated on hard metals.
In his functions, he creates a perfect symbiosis between powder-metallurgical research and its transfer into industrial applications.
With his presentation on occasion of the award ceremony at the opening ceremony of AMPT, Prof. Bernd Kieback addressed a cutting-edge topic under the title "Powder based Technologies for Additive Manufacturing: Oddity or Revolution?" - a topic in which powder metallurgy in research and application is currently very much involved.
In his presentation, he provocatively posed the question if additive manufacturing is leading the way into the next industrial revolution. With two technology examples, i.e. electron beam melting and 3D screen printing, he demonstrated solutions additive manufacturing is offering for topical industrial problems.
Not only does Prof. Kieback consider his accolade as a recognition of his achievements so far, but also as an appreciation of the accomplishments of all Dresden powder metallurgists. Furthermore, he regards the honor as an incentive to further actively participate in the powder metallurgical community and to advance powder metallurgy