Rapid Solidification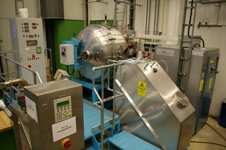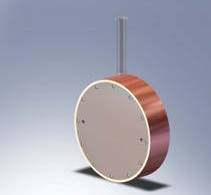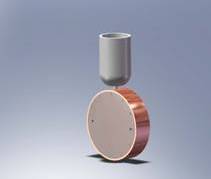 The rapid solidification equipment enables the production of nanocrystalline or amorphous ribbons with thicknesses of less than 100 µm, especially of metals and alloys.
Today, rapid solidified strips are mainly used in magnetic areas. Rapidly cooled soldering or welding foils are also of particular interest. The development of novel functional materials (e.g. thermoelectrics, hydrogen storage materials) as well as the production of high-performance aluminium materials with high heat resistance by hot compacting and forming of rapidly solidified flakes are part of current research activities at Fraunhofer IFAM Dresden.

During Melt Spinning (MS) or Planar Flow Casting (PFC), a molten metal is poured through a nozzle onto a water-cooled, rapidly rotating Cu wheel, whereby cooling rates of up to approx. 106 K/s can be achieved. Essential design features of the system, such as ensuring extremely smooth running over the entire working range (up to 47 m/s at the roll diameter), nozzle positioning in three axes with high accuracy of gap adjustment, and an atmosphere concept that allows materials to be processed under vacuum (10-6 mbar), inert gas or air, permit a wide range of research and development work. The induction heating allows melting temperatures of over 1700 °C with melt masses of 100 to 2000 g (based on aluminium by volume).

Ultrafine grained or amorphous material of metals and alloys can be manufactured by a rapid solidification (RS) device. Such ribbons or flakes have thicknesses of less than 100 µm.
Melt Spinner

Cooling wheel


- Cu alloy
- Ø 300 mm x 80 mm
- 3,000 min-1

Inductive heating (40 kHz)


- 2 crucibles (10 – 20 cm³; up to 1000 cm³)
- up to 1700 °C

Atmosphere

: air, gas and vacuum in the recipient

ribbon width up to 20 mm
Application potential (examples)
Advanced alloys of aluminium and magnesium

Catalizer materials

Braze materials

Thermoelectric materials

Materials for hydrogen storage
Service offer

Application-oriented development of rapidly solidified alloys

Characterisation and analysis of material properties

Utilisation of RS materials for demonstration and prototypes