Spark Plasma Sintering System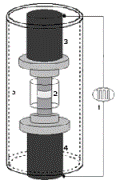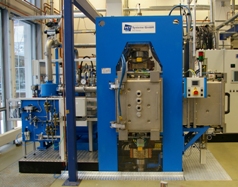 The Process
The Spark Plasma Sintering (SPS) process is based on a modified hot pressing technique in which a pulsed direct current with pulse widths in the range of milliseconds, high current and low voltage, is passed through the pressing tool and - if electrically conductive - through the sintering powder. The direct heating of tool and specimen allows high heating rates (up to 1000 K/min, 'uncontrolled' up to 1000 K/s) and short process times in the range of minutes.
Since the powder is filled directly into the tool, no powder pre-treatment is necessary in contrast to other processes. The need for pressing aids is also eliminated.
The mechanical pressure applied during sintering accelerates the material transport processes and thus the compaction [1]. This allows the compaction of materials that require ere a fine, homogeneous structure and only minor structural changes (e.g. grain growth) during sintering. The possibility of sintering almost without grain growth makes SPS the ideal technique for compacting nano- or nanostructured powders.
Materials
These advantages make Spark Plasma Sintering the process of choice for the production of high-strength, ultra-fine crystalline materials, dispersion strengthened materials, sputter targets, thermoelectrics or metal-diamond (or generally metal-carbon) composite materials. In addition, the process allows the adjustment of temperature gradients within the sintering body during compaction. This allows the production of gradient and layered materials with widely differing properties (e.g. ZrO2/stainless steel, Al2O3/titanium) [2].
Equipment
Spark Plasma Sintering systems are currently used mainly in the R&D sector. Industrially, simpler systems with non-pulsed current are more common. With the FCT-HP D 5 and FCT-HP D 250/1 devices by FCT Systeme GmbH, Rauenstein, installed at the Fraunhofer IFAM Dresden, parts with production-relevant sizes (maximum diameter: 300 mm) can be produced. During operation, current flow and pause times can be set from 0 to 255 milliseconds, so that non-pulsed operation is also possible.